Access Your Accounts Anytime, Anywhere.
Your finances at your fingertips.
Tandem Bank's digital banking lets you access your money from your computer, tablet, or smartphone. We offer a wide variety of online and mobile banking options so you can bank anywhere at any time. Our two Apps are secure, fast, and innovatively designed to make life easier by equipping you with the tools you need to manage your finances.
Organize
Ability to organize your transactions by adding tags, notes and photos of receipts and checks.
Secure
Biometrics to log in quickly and securely with no account data stored on your device.
Deposit
Deposit checks in a snap by taking a picture of the front and back.
Transfer
Transfer money between your accounts.
Control
Reorder your debit card or turn it off if you've misplaced it.
Alerts
Set up alerts so you know when your balance drops below a certain amount.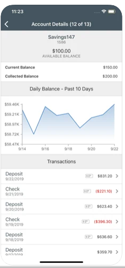 Manage
Manage critical business information and action items on the go.
Secure
Multifactor authentication provides additional security for access and approval of transactions.
Deposit
Deposit multiple checks in a snap with batch processing.
Initiate
Initiate transfers, bill payment, ACH transactions and wire transfers.
Control
Approve outgoing funds with dual control authorization.
Alerts
Set up a variety of alerts to notify you of ACH, wire or transfer transactions.