Finding beauty and success in unlikely places
Ask Kathleen Plate to explain who she is, and she might answer, "I'm a mad-scientist artist." It's an apt description for the self-taught glasswork and jewelry designer who patented a process to take discarded bottles — yes, trash — and turn them into sought-after necklaces, earrings and rings.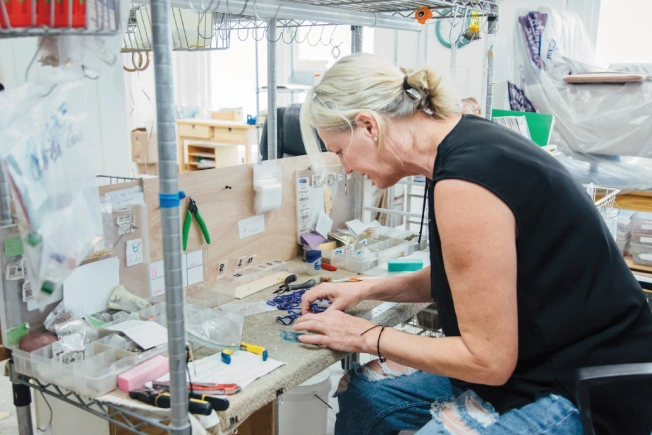 The idea that eventually became Tucker-based Smart Glass Jewelry began more than 30 years ago when, as a broke graduate student at Georgia State University, Plate had to come up with a gift to bring to a friend's birthday party. She eyed an empty wine bottle, felt inspired to break it up into pieces and crafted some earrings. Soon partygoers were requesting their own pairs, and her recycled glass jewelry idea came to life.
It became her grad school side gig, a welcome change of pace while pursuing a heady PhD in English, she says. "I needed to do something with my hands while working on papers about late 19th-century post-Victorian minor women writers."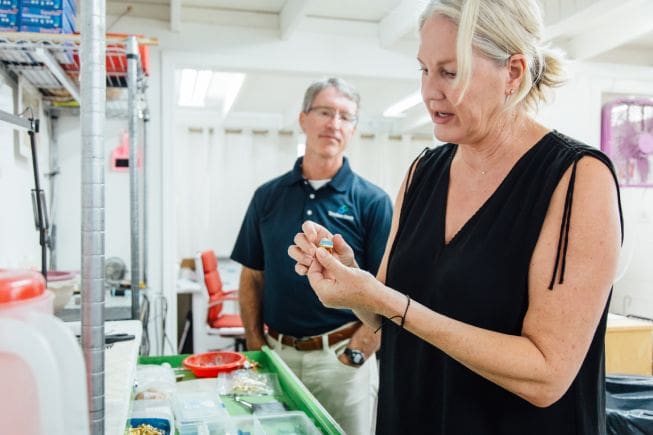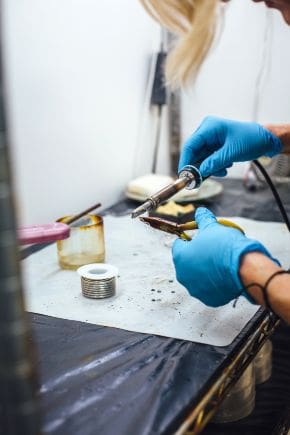 Growing up in a small fishing and logging town along the Columbia River in Washington state, Plate had always been crafty. It was a trait handed down from her mother, a chemist by trade. Together, they made soap, candles and stained glass, built geraniums, sewed, you name it.
Her jewelry soon sold out at arts festivals and received orders from wholesalers. She walked away from school with a master's degree and a newfound mission: to build a sustainable business that combined her love of art and ecology.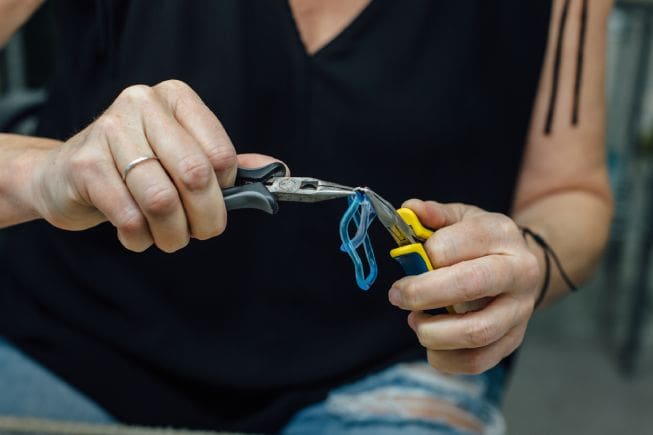 In the early days, she soldered pieces over a kitchen counter in her tiny one-bedroom apartment. Later, as she tasted growing success, she worked out of a 10-by-12 spare bedroom, a converted attic space, a carriage house, and then a combo residential and commercial loft. Eventually, she rented a large studio, but a steep rent increase motivated her to buy her own commercial workspace.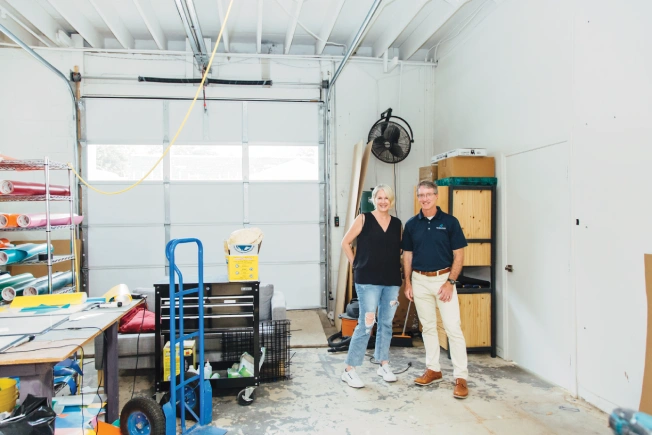 Plate knew what it took to secure a home mortgage, but securing a commercial loan was new territory. She sought out advice from other small business owners in the community and relied on word of mouth.
"All the mouths were saying the same thing: Go to Tandem," she remembers. "Not one thing I do is traditional. They needed to take the time to absorb me for the full business that I am. I was so grateful that they wanted to take a chance on me."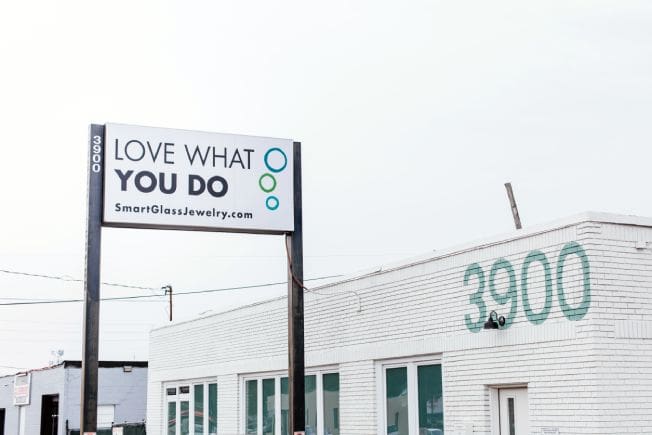 The sign outside Smart Glass headquarters, filling 2,400 square feet, reads "Love what you do. Do what you love." Inside, at one end of the building, sits the saw to cut bottles and the kilns to fire cut pieces. A nearby workstation, stacked with glass panels, is where Plate tackles a custom project to make light fixtures from Coca-Cola bottles that will be featured in every Chick-fil-A restaurant across the country. This year alone, she's on the hook to make 500 of those.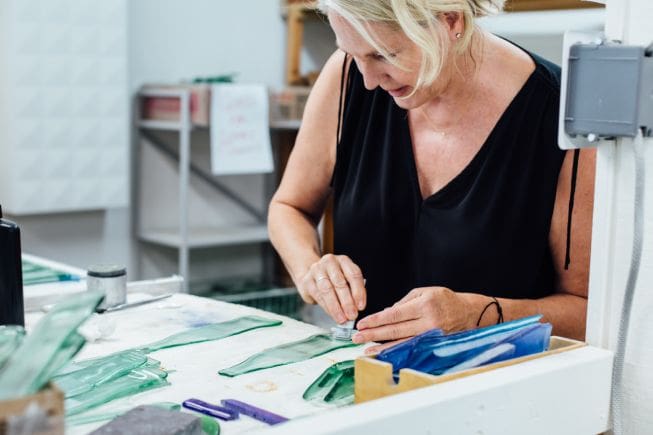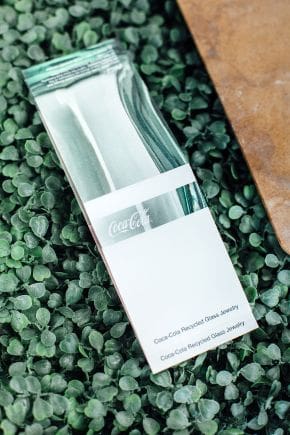 On shelves and stacked along walls are wine, beer, Coke, gin and sake bottles. They are collected from restaurants and found in dumpsters. More surplus bottles are stored in a shed out back, where a cement mixer hums. Filled with sand and water, it acts as a fake ocean, putting a seaglass finish on the pieces that toss around inside.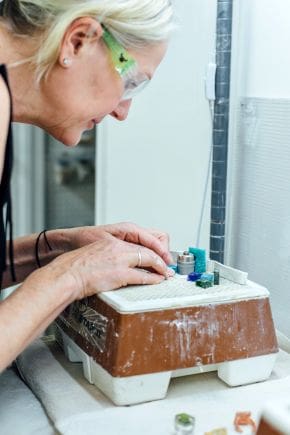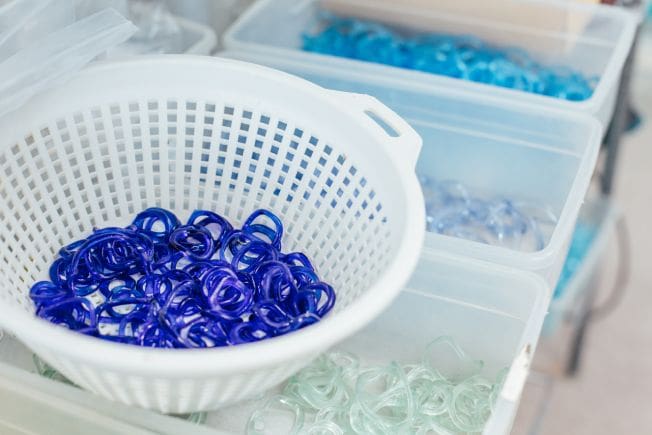 Plate has come a long way from working at her kitchen counter, between papers, and frequenting street festivals. She sells wholesale to galleries, museums and stores across the country. Her jewelry is featured in catalogs. The Smart Glass website has a national following. And she does it all, with the help of assistants, from a workspace that feels like home.
"I've had really challenging years, financially scary years," she says. "But now, I'm exactly where I want to be."